5 cups of black currants (1 quart)
4 cups sugar
1/4 cup lemon juice
Wash and remove currant stems.
Place fruit in heavy saucepan with 2 cups of water.
Bring slowly to boil, uncovered, stirring to break down fruit into a pulp.
Cook for 10 minutes or until soft.
Add sugar and lemon juice over low heat, stir until sugar is dissolved.
Raise heat; bring to full rolling boil, stirring often.
Boil hard, uncovered, for 10 minutes. Remove from heat, test for jam stage.
Cook longer if needed and test again.
Let stand 5 minutes, skimming off any foam with large metal spoon and stirring occasionally to prevent floating fruit.
Pour into hot sterilized jars and heat seal.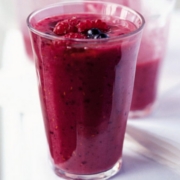 1 small ripe banana
about 140g blackberries, blueberries, blackcurrants, raspberries or strawberries (or use a mix), plus extra to serve
apple juice or mineral water, optional
runny honey , to serve
Slice the banana into your blender or food processor and add the berries of your choice. Whizz until smooth. With the blades whirring, pour in juice or water to make the consistency you like. Toss a few extra fruits on top, drizzle with honey and serve.

3 cups baby spinach, rinsed and dried
1 pint fresh blackcurrants
6 ounces crumbled feta cheese
1 pint cherry tomatoes, halved
1 green onion, sliced
1/4 cup finely chopped walnuts (optional)
1/2 cup edible flowers (optional)
1. In a large bowl, toss together baby spinach, blackberries, feta cheese, cherry tomatoes, green onion, and walnuts. Garnish with edible flowers.